Oltre Marechiare
Prime osservazioni sulla poesia napoletana del XXI secolo
Keywords:
Contemporary Lyric, Dialectal poetry, Neapolitan poetry, Performative poetry, Linguistic experimentalism, poesia a Napoli , poesia performativa, lirica contemporanea, poesia dialettale, sperimentalismo linguistico
Abstract
This paper describes some of the routes taken by Neapolitan poetry during the 21st century, paying particular attention to the most recognizable literary experiences and to authors whose works have been relevant for the evolution of the local poetic language. The paper traces a linguistic and formal path of the main tendencies of Neapolitan poetry: starting from the persistence of dialect, it continues by addressing experimentalism in Italian poetry written in Naples. Then, it focuses on the junction of performance and spoken strategies with long poems and narrative compositions, which I compare to the current directions of contemporary lyric poetry. The purpose of this paper is to offer a preliminary recognition of what happened in Neapolitan poetry from 2000 to 2020, overcoming the critical boycott of an area which has always expressed an outstanding literary and cultural vivacity.
Pur senza pretendere di restituirne un quadro completo, il contributo intende descrivere alcuni percorsi della poesia del Duemila prodotta a Napoli. L'attenzione è rivolta alle scritture maggiormente riconoscibili e ad alcuni casi singoli di autrici e autori significativi per l'evoluzione della lingua poetica (non solo) locale. In particolare, l'articolo traccia un itinerario formale e linguistico delle tendenze più marcate della poesia partenopea: partendo dalla resistenza della linea dialettale, si passa allo sperimentalismo nella poesia in lingua italiana; la performatività e le possibilità esecutive del testo poetico si intrecciano poi con la forma-poemetto e le non poche narrazioni in versi, alle quali si contrappone un esame degli orientamenti della produzione lirica contemporanea. L'obiettivo è quello di offrire una prima ricognizione di quanto si è mosso nel primo XXI secolo in area napoletana, superando in questo modo un certo ostracismo critico nei confronti di una zona più che mai in fermento sul fronte poetico e letterario.
English title
Beyond Marechiare. First notes on Neapolitan poetry of the 21st century
Downloads
Download data is not yet available.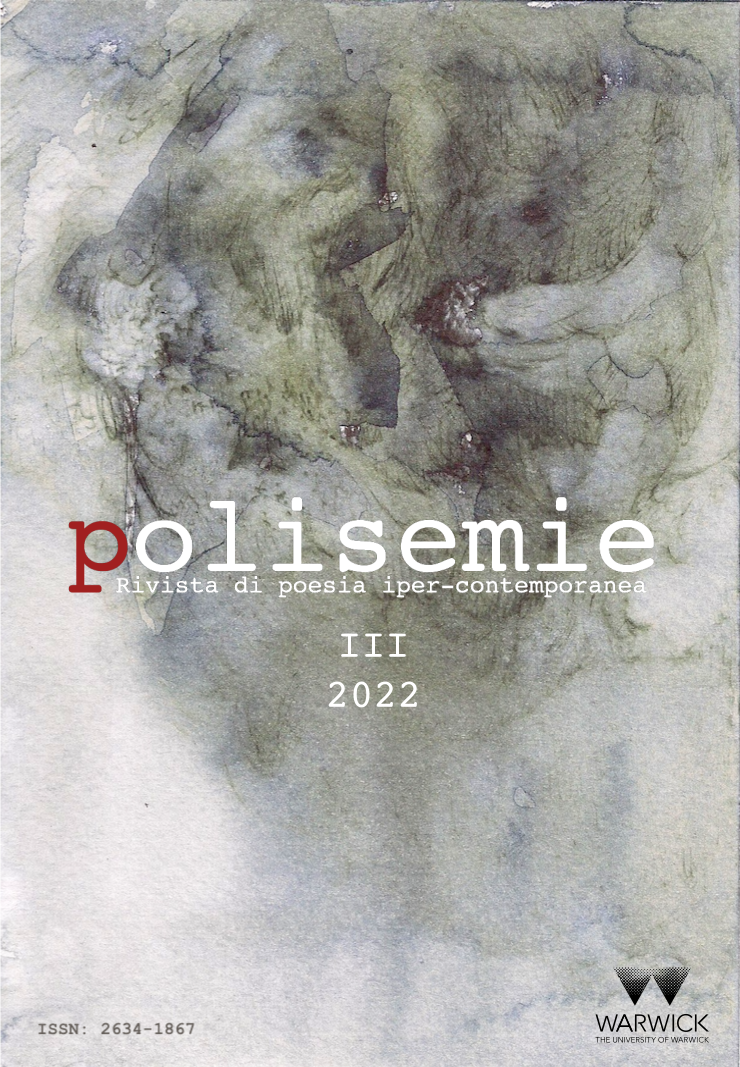 Downloads
License
Copyright (c) 2022 Giuseppe Andrea Liberti
This work is licensed under a Creative Commons Attribution 4.0 International License.