Sapienziale
Forme e usi della sentenza nella poesia contemporanea
Keywords:
sentenze, saggezza, stilistica, pragmatica, Cristina Annino, Milo de Angelis, Guido Mazzoni, Marco Giovenale, epistemologia, maxims, wisdom, knowledge
Abstract
The aim of this study is twofold: on the one hand, it purports to develop a model to investigate universal or generic propositions (e.g., theses, maxims, proverbs, aphorisms) and their effects in poetry; on the other, it applies such model to four poetry collections by Cristina Annino, Milo De Angelis, Marco Giovenale, and Guido Mazzoni. The analysis, guided by the criteria and parameters established by the model, has allowed to discover in what textual forms and pragmatic functions the aforementioned authors express contents worth of memic transmissibility, as well as related effects of authority, necessity, wisdom, intuition, collective relevance. Mazzoni's reliance on theses, for instance, has been interpreted as an attempt to gain an objective knowledge of the world, differently from Annino's more subjective aphorisms or De Angelis' utterances, which are rooted in the here-and-now and yet capable of transcending themselves by virtue of their archetypal relevance. The model proposed has also enabled to shed light on less prototypical forms, such as Annino's creative manipulation of proverbs and Giovenale's parodic redeployment of stereotypes. The article concludes by suggesting paths for future research in which the model could be profitably applied.
Il presente studio si pone due obiettivi principali: da un lato, quello di sviluppare un modello per lo studio delle proposizioni universali o comunque a carattere generale (per es. tesi, massime, proverbi, aforismi) e dei loro effetti in poesia; dall'altro, quello di applicare tale modello a quattro libri recenti di altrettanti autori: Cristina Annino, Milo De Angelis, Marco Giovenale e Guido Mazzoni. L'analisi, guidata da criteri e parametri indicati dal modello, ha permesso di comprendere in quali forme testuali e funzioni pragmatiche questi autori esprimono contenuti degni di una trasmissibilità memica, nonché le annesse sensazioni di autorità, necessità, saggezza, intuizione, rilevanza collettiva. Si è per esempio ricondotto l'uso della tesi in Mazzoni al tentativo di raggiungere una conoscenza oggettiva del mondo, diversamente dalle forme più soggettive dell'aforisma in Annino o degli enunciati deangelisiani, situati nel qui-e-ora ma capaci di trascendersi grazie alla loro portata archetipica. Il modello proposto ha inoltre consentito di far luce su forme-limite, come il reimpiego creativo del proverbio in Annino e l'uso parodico degli stereotipi in Giovenale. L'articolo si conclude suggerendo ulteriori studi nei quali l'uso di questo modello potrebbe rivelarsi proficuo.
English title: Full of Wisdom: Forms and Uses of Maxims in Contemporary Italian Poetry
Downloads
Download data is not yet available.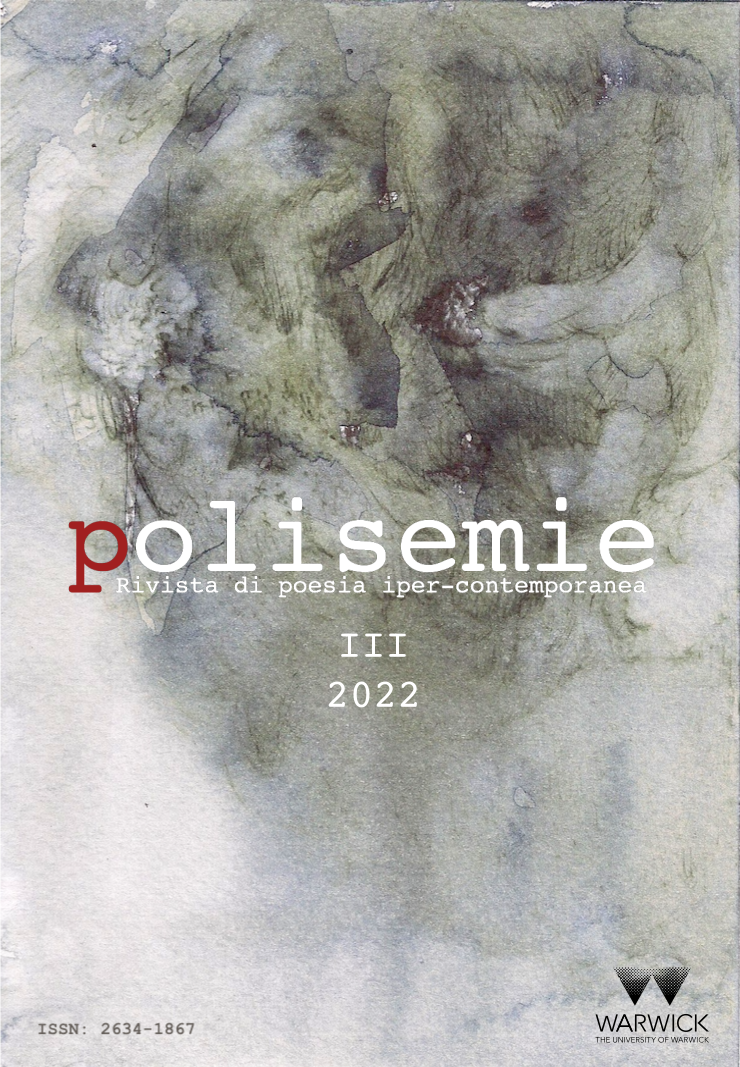 Downloads
License
Copyright (c) 2022 Davide Castiglione
This work is licensed under a Creative Commons Attribution 4.0 International License.