«Sola nel letto di me stessa»
Osservazioni sulla poetica di Biancamaria Frabotta ne "La materia prima"
Keywords:
Biancamaria Frabotta, Ecocriticism, Adorno, La materia prima, Croce, Italian poetry
Abstract
L'articolo è approfondisce la poetica di Biancamaria Frabotta nella sua penultima raccolta poetica, La materia prima. Sebbene il panorama degli studi abbia prodotto più di un approfondimento sull'opera della poetessa, nessuno è stato ad oggi dedicato alla raccolta. Con lo scopo di produrre uno studio inedito sul lavoro poetico di Frabotta, lo scopo dell'articolo sarà operare un'analisi del corpus testuale con una metodologia critico-filosofica.  Tale analisi sarà segmentata in tre paragrafi e approfondirà le questioni sollevate dalla centralità ontologica ed estetica della figura dell'animale, dalla concezione metafisica della poetessa e dalla componente teoretica compositiva. Il risultato dello studio fornirà una nuova lettura epistemologica della raccolta, utile per una più profonda comprensione, in senso lato, del lavoro di Frabotta. La letteratura critica sull'autrice sarà così arricchita da un contributo nuovo, sia nel senso della metodologia che del focus di ricerca.
English title: «Alone in the bed with myself». Observation of the last poetic conception of Biancamaria Frabotta
This essay focuses on the poetic conception of Biancamaria Frabotta in the collection La materia prima. The literature dedicated to Frabotta's poetry is to date very wide. However, no studies on the collection have been produced to date. In order to offer an unprecedented insight into Frabotta's poetic work, the purpose of this study is to perform a study of the textual corpus, approached through a philosophical critical methodology of analysis. Such analysis will be divided into three paragraphs and will focus on the issues raised by the ontological and aesthetical centrality of the figure of the animal, the metaphysical conception of the poet and the theoretical compositional component. The study will provide a new epistemological reading of the second-last poetry collection of Frabotta, which will also allow for a deeper understanding of her work. A new contribution will thus enrich the critical literature on the author both in the sense of the methodology and of the research focus.
Downloads
Download data is not yet available.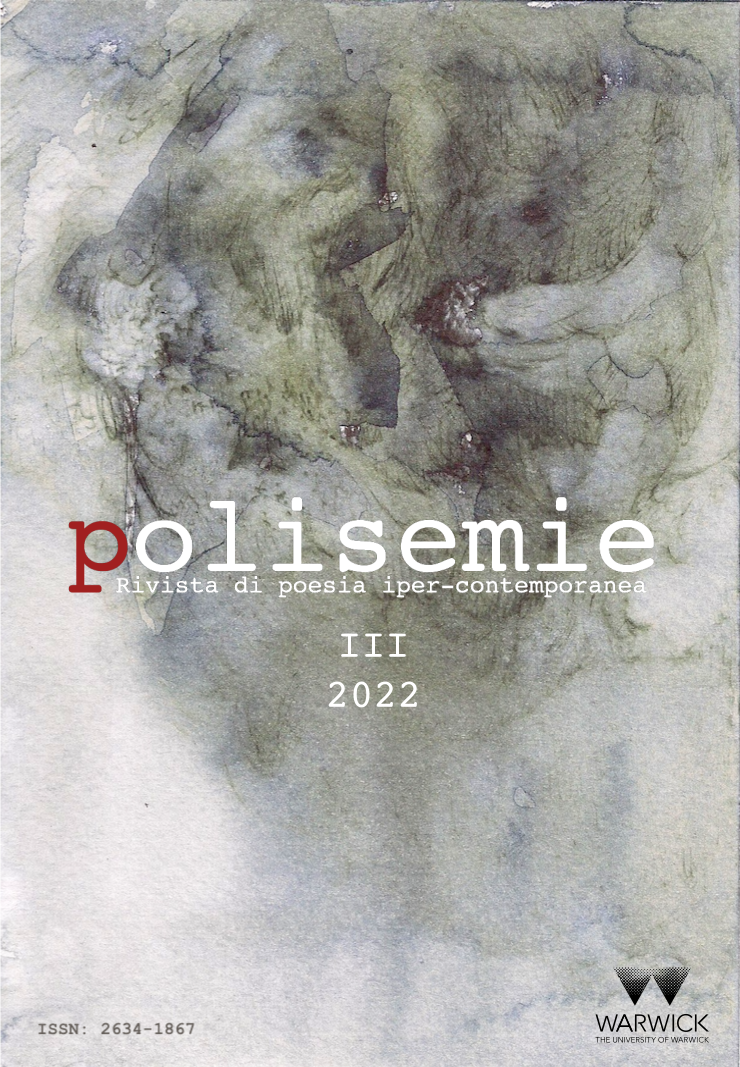 Downloads
License
Copyright (c) 2022 Stefano Bottero
This work is licensed under a Creative Commons Attribution 4.0 International License.