Obliterarsi
Franca Mancinelli da Mala Kruna a Libretto di Transito Parte II
Keywords:
Franca Mancinelli, Mancinelli, Libretto, transito, Mala kruna Pasta madre, connessioni intertestuali, struttura, riscrittura, varianti, poetiche, Little book of passage, intertextuality, literary rewriting, structure, variants
Abstract
The paper tries to describe the continuity in Franca Mancinelli's poetry books, studying the chronological progress of themes and its way of forming intertextual connections in each book or between one another. The connections' study has the purpose to show the singular structure of each books. By looking at the structures, it can be detected Mancinelli's method of building a structure and a poetry book. This leads to discover the variations in texts and to the study of the last versions of them. The paper aims also to define the form of self rewriting in Mancinelli's recent books by analysing those variants in texts. The process of rewriting founds his explanation in themes', style's and structure's analysis, showing a trend in the poet's style.
L'articolo tenta di analizzare i primi tre libri di Franca Mancinelli, cercandone le continuità tematiche e l'unità profonda. Attraversando le raccolte in ordine cronologico, l'articolo privilegia la lettura dei temi al fine di scoprire le connessioni intertestuali all'interno dei singoli volumi o da uno di essi agli altri. Ciò permette di cercare quindi le strutture e le dinamiche strutturanti di un «libro di poesia» mancinelliano, ponendo attenzione alle dichiarazioni di poetica dell'autrice e studiando le varianti dei microtesti, volendo arrivare ad una definizione delle intenzioni con cui la poetessa produce nuove versioni delle sue poesie e delle sue prose liriche. La riscrittura trova una giustificazione dal lato stilistico, dal lato strutturale e dal lato tematico, scoprendo una tendenza nella scrittura di Franca Mancinelli.
English title
Self-Obliteration. Franca Mancinelli from Mala kruna to Libretto di transito (Part II)
Downloads
Download data is not yet available.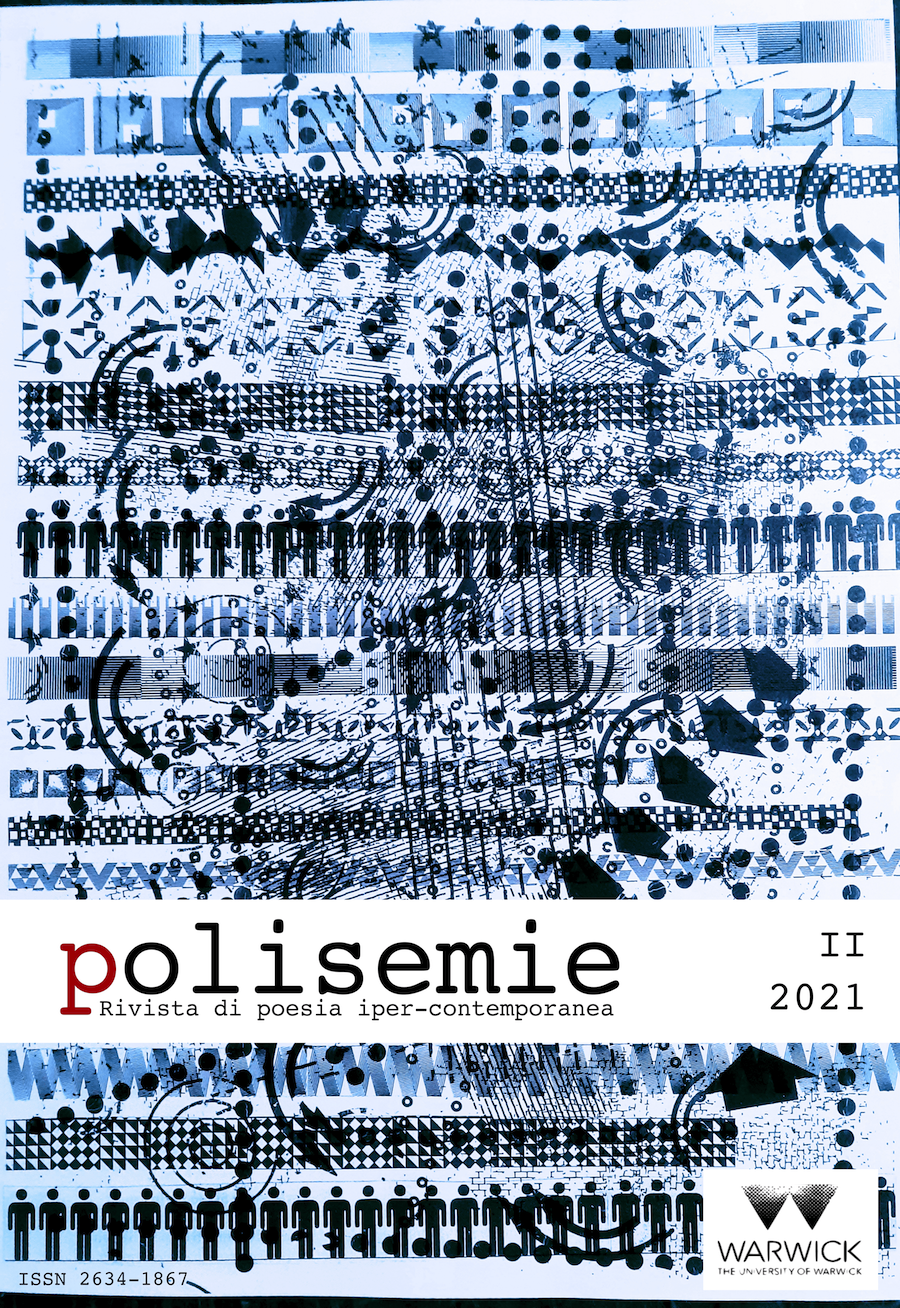 Downloads
License
Copyright (c) 2021 Mattia Caponi
This work is licensed under a Creative Commons Attribution 4.0 International License.